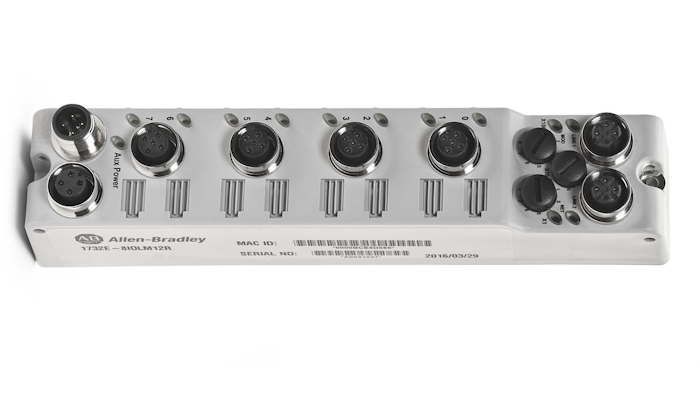 Rockwell Automation
Manufacturers and industrial operators can now access more detailed sensor diagnostics in harsh operating environments using the IP67-rated, Allen-Bradley ArmorBlock IO-Link master from Rockwell Automation (Milwaukee, WI). The device builds on the Rockwell's IO-Link portfolio with event and process timestamping capabilities for on-machine applications. Additional features include:
The ability to store up to 40 timestamps of sensor events on each channel.

An event history that can help users track changes and diagnose issues.
Input timestamps can be sent to the controller upon a change of state.
Reduced issue-resolution time, improved preventive maintenance, and optimized system performance.
An in-cabinet solution available for light applications.
The on-machine option requires only a single cable from the cabinet, reducing the number and length of cable runs and potential failure points.
Connectivity for up to 8 IO-Link sensors.
Master and sensors share an IP address, helping reduce the cost and time to commission equipment.
For more information, visit http://www.rockwellautomation.com/.