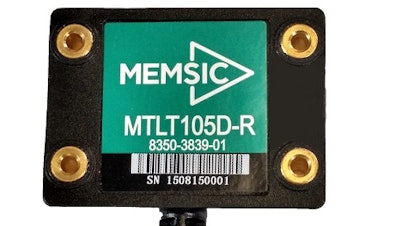 MEMSIC
MEMSIC (Andover, MA) has launched a new product family, the MTLT series of Inclination and Tilt Sensors. The MTLT family of tilt sensors feature:
Applicability in construction and industrial markets, such as boom tilt monitoring, bucket loader roll back protection, PV/CSP solar tracking systems and others.
IP67 rated inclinometers with an integrated RS-232 interface and flying lead cable operating from a 9 V to 32 V single supply.
The MTLT105S and MTLT110S, which are designed for applications requiring < 0.5° and <1.0° accuracy, respectfully, over the full operating temperature range.
Programmable tilt alarms for tilt safety applications.
An alarm that can be programmed to be triggered to activate when the tilt exceeds a specified threshold.
The ability to lock out controls or trigger an alarm or warning light.
Micro electro-mechanical system (MEMS) sensors.
Over temperature calibration.
SmartSensing technology, which provides users with sensor fusion and performance in critical motion sensing applications.
MTLT samples are available to qualified customers for evaluation. Designers can evaluate and log data using MEMSIC's NavView Software, available for download from www.memsic.com/tilt-sensors.
For datasheets, contact MEMSIC at [email protected].