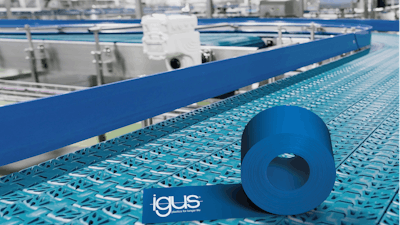 igus (East Providence, RI) offers their newly-designed liners that reduce abrasion during linear movements, allow easier sliding, and curtail wear in metal parts. Additional features of the tribologically-optimized liners include:
Availability in new sizes with advanced adhesive backing.
Lubrication-free.
The new adhesive is FDA-compliant for use in the food industry.
Material composition that is less abrasive, and lubrication and maintenance-free.
Four liners with different properties for unique applications.
Superior wear-resistance, a low coefficient of friction, and can be used in applications from -58 to 320 degrees Fahrenheit.
Embedded antibacterial properties and UV-stabilizing additives so its properties do not change in light-induced oxidation.