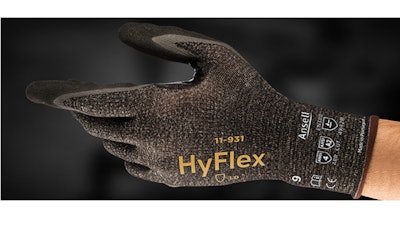 Ansell (Iselin, NJ) announces its best selling HyFlex 11-93x series has been certified as the First Ergonomic Certified Industrial Glove Series after a thorough and comprehensive study performed by the industry leader in ergonomics testing within the United States, US Ergonomics. HyFlex 11-931, 11-937, and 11-939 gloves have been demonstrated to reduce muscle fatigue, increase grip performance, maximize hand and finger flexibility and improve wrist posture and overall dexterity. The HyFlex 11-93x glove series actively works against risk factors for muskuloskeletal disorders (MSDs), significantly reducing hand muscle effort and improving wrist posture while performing tasks, even compared to barehanded movements. Benefits of ergonomic certified gloves include:
Increased efficiency through improved grip performance and durability.

Fewer workplace hand-related injuries.

A reduced need for workers to require time off to recover from hand-related issues.
In addition to the ergonomic benefits, the HyFlex 11-93x series is the lightest weight, cut-resistant plus oil-repellent glove on the market, engineered to deliver hand protection from sharp, oil-coated objects while providing enhanced worker comfort and strategically reinforced 'high wear' regions for longer glove use and uninterrupted focus on the task at hand.
www.ansell.com/comfortzone; 800-800-0444