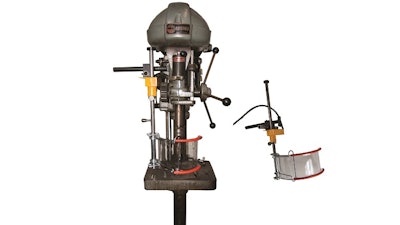 The Flexbar 3-Axis Universal Mount Interlocked Guards from Flexbar (Islandia, NY) feature a newly designed universal positioning system incorporating a range of Electrical Interlocked Shields for a wide variety of machine guarding applications including mills, drill presses and band saws. 6 different sizes and styles available. Specific benefits include the following:
3-Axis universal positioning allows all shields to be optimally employed in the hazardous machining area.
When the shield is swung out of position, the cam-operated limit switch opens the contacts and stops the machine.
All attached electrical wiring with flexible conduit are included, to allow connection to the safety circuit of the machine that switches off the control to the movement of the spindle.
All units also incorporate heavy-duty Lexan shields with rugged steel mounting and positioning posts.
Unit is protected beyond IPG rating.
All models are manufactured to meet or exceed OSHA standards.
Manufactured in the USA.