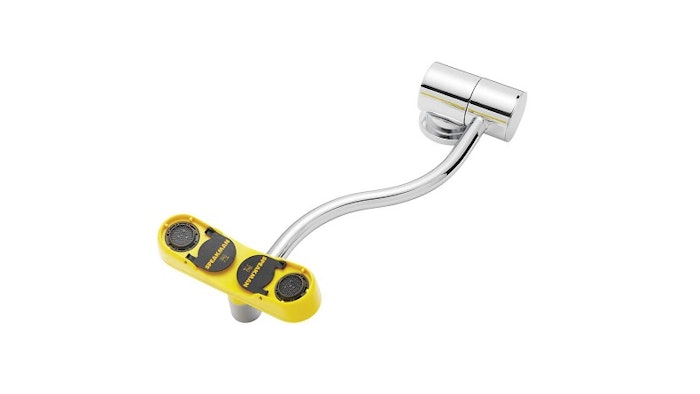 Speakman Company (New Castle, DE) has announced the launch of Optimus Swing Down Laboratory Eyewashes. The second generation of the lab product line of eyewash and safety shower adds aerated Optimus spray heads and swing-down valves for fast and easy activation during an emergency. The seven new lab products offer a number of configurations for versatility in virtually any application by minimizing space needed while offering maximum safety protection. The Optimus Swing-Down Laboratory Eyewash and Safety Shower features include:
An upgraded swing activated valve.

Aerated 2.6 GPM @ 30 PSI Optimus eyewash spray.
ANSI/ISEA Z358.1 certified.
A shower door that no longer uses swing down valve as hinge.
A recessed cabinet design, enlarged to collect more water and prevent spillage.
Mounting holes on the cabinet which have been relocated for sturdier installation.
Extra sealing tape added around the well to prevent leaking.
Universal emergency sign.
Brass, chrome-plated valve.
High-performance stainless-steel emergency shower head with built-in drain.
www.speakman.com; 800-537-2107