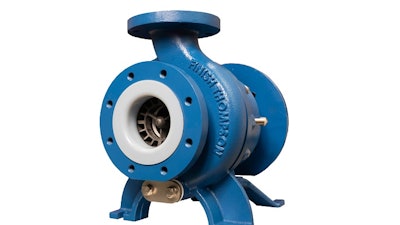 Finish Thompson Inc. (Erie, PA) has added a new model to its ULTRAChem lineup of heavy-duty ANSI dimensional mag-drive sealless centrifugal chemical pumps. The new UC436L pump extends Finish Thompson's product line coverage for transferring the harshest types of industrial fluids such as sulfuric acid, sodium hydroxide and sodium hypochlorite. Applications include:
Loading and unloading trucks and railcars.

Providing flow through large filter systems in surface finishing applications.

Allowing time-saving transfers at lower horsepower in a robust, heavy-duty design with a compact footprint.
ULTRAChem (UC) Series pumps are engineered for maximum reliability in the most extreme chemical processing applications, including offering superior corrosion resistance over other pump constructions. The company currently offers 18 ULTRAChem pump models to cover a wide range of flow and head requirements.