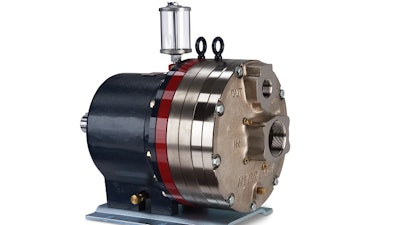 Wanner Engineering, Inc. (Minneapolis, MN) introduces its new Hydra-Cell D66 Series seal-less positive displacement pumps for use in a wide range of processing, OEM, municipal and commercial applications. The new Hydra-Cell pumps offer a maximum flow capacity of 65.7 gpm (248.7 l/min) and pressure ratings up to 700 psi (48 bar) for models featuring Brass, Ductile Iron or 316L Stainless Steel (metallic) pumps heads and 250 psi (17 bar) for models equipped with Polypropylene (non-metallic) pump heads.
A seal-less design, meaning no mechanical seals, cups, or packing to leak, wear, or replace.
Spring-loaded, horizontal disk check valves, and the seal-less design, enabling model D66 pumps to handle viscous fluids and abrasive particulates up to 800 microns in size.
The patented Kel-Cell technology, so that in the event of a closed or clogged inlet condition, the D66 will run dry indefinitely without damage to the pump.
www.hydra-cell.com; 612-332-5681