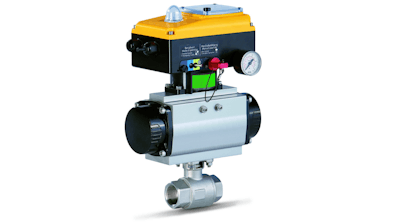 Removal of moisture, particulates and hydrocarbons from the compressed air system is vital in order to protect pneumatic equipment, minimize downtime and reduce scrap and inferior product. The DHS from Kaeser Compressors (Fredericksburg, VA) helps ensure that dryers and filters perform to specification. This electronic intermediate control acts on a pressure signal to prevent high velocity conditions that will occur when system pressure is low. Benefits include:
Maximized contact time in air treatment components, making them more effective.
Increased bead and filter life of desiccant dryers, by reducing dusting in the desiccant bed.
High visibility LED indicators to communicate status at a glance. They can also be wired to dryers and drains so that in case these fail or are shut down, the DHS closes to prevent contamination from getting downstream.
Remote monitoring/control by connecting the DHS to plant monitoring systems or Kaeser Sigma Air Manager 4.0 if present.
Availability in eight sizes from 1-inch ball to 8-inch butterfly valves to accommodate nearly any system.
www.us.kaeser.com; 877-417-3527