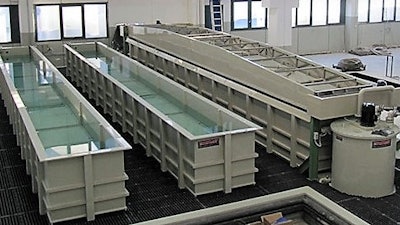 Tecnoplast USA (Anderson, IN) is a manufacturer working with Thermoplastic materials in the following areas:
Metal finishing tanks.
Ventilation & scrubber systems.
Centrifugal Fans.
Turnkey metal finishing lines.
Metal finishing companies look to Tecnoplast USA when they are:
Concerned their tanks are not being engineered correctly, and do not take thermal expansion stresses and choosing the proper material into account for the specific application.
Frustrated with the high cost of lost production and chemical waste due to tank leaks.
Angry about tank failures resulting in worker exposure and the environmental clean-up.
Worried that their hazardous indoor air quality is causing corrosion on plant equipment and incoming unfinished goods.
Nervous about being in non-compliance with indoor and outdoor air quality with the EPA or OSHA.
Disturbed that chemical contaminants are causing employees to suffer headaches, fatigue, allergies, sinus congestion and dizziness, among other health issues.

Discouraged with improper fans in place that are not corrosion resistant.
www.tecnoplastusa.com; 765-778-0943