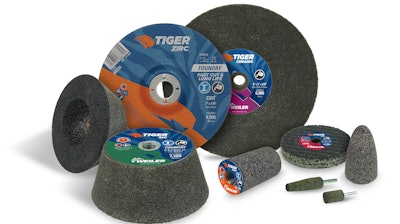 Weiler Abrasives (Cresco, PA) has announced the availability of its Tiger abrasives line designed to deliver maximum performance in the most demanding foundry applications. With solutions to address all grinding applications in the cleaning room, Tiger products help decrease cycle times and improve operator experience. Specifics include:
Tiger Type 11 Cups:

The Tiger Type 11 cup wheels are available with industry-exclusive ceramic grain technology to deliver up to 30% faster cut-rate compared to competitive zirconia cups. The advanced micro-structure of the Tiger Ceramic grain results in extremely low specific cutting energy, providing ultra-high metal removal rates to improve productivity when grinding cast and ductile iron, cast steel and other hard-to-grind materials.

Tiger Type 27 Grinding Wheels:

Weiler Abrasives is offering its Tiger Type 27 depressed center grinding wheels in three performance tiers specifically designed for foundry applications, including Tiger Ceramic for superior cut and long life. The ability to remove 40% more material over the wheel's life compared to competitive zirconia products increases productivity and reduces abrasive usage. Tiger Zirc and Tiger AO grinding wheels are also available, providing cost-competitive material removal rates and extended product life.

Additional Abrasive Solutions:

As part of the Tiger abrasives portfolio, Weiler Abrasives has added cones and plugs for ID cleaning, edge beveling, cleaning castings in hard-to-reach areas and more. The products feature a hexagon nut with channels that secures the cones and plugs to the grinding tool to increase safety and prevent product breakage.
www.WeilerAbrasives.com/foundry, 800-835-9999