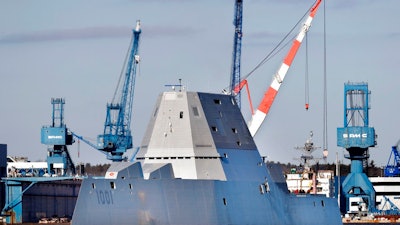 AP Photo/Robert F. Bukaty, File
PORTLAND, Maine (AP) — The second Zumwalt-class stealth destroyer has passed its sea test.
A statement from Naval Sea Systems Command says the future USS Michael Monsoor successfully completed its acceptance trials Thursday.
The Portland Press Herald reports the statement says onboard systems such as navigation, damage control, mechanical, combat, communication and propulsion met or exceeded specifications.
The 610-foot-long Monsoor headed out to sea for the first time in December. Its first sea trials were cut short because of equipment failures.
The Monsoor is the second built at Maine's Bath Iron Works in a class of three futuristic-looking ships that feature electric-drive propulsion, new radar and sonar, powerful guns and missiles and a stealthy shape.
The cost of the three Zumwalt-class destroyers is estimated at $22 billion, the most expensive Navy destroyers ever built.