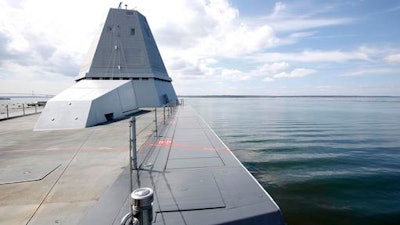 AP Photo/Michael Dwyer
NEWPORT, R.I. (AP) — The stealthy and futuristic Zumwalt destroyer has left Rhode Island.
The 610-foot (186 meters) warship made its first port stop at Naval Station Newport in Rhode Island after leaving the shipyard to join the fleet. It arrived on Thursday and left Monday.
It's headed to Baltimore, where it will be commissioned in October before going to its home port in San Diego. It was built at Bath Iron Works in Maine.
The Zumwalt is stopping in various ports, and the crew will train en route to San Diego.
The ship features an angular shape to minimize its radar signature, a powerful new gun system and a composite deckhouse that hides its radar and sensors.
The crew of 147 officers and sailors is the smallest crew of any destroyer built since the 1930s, thanks to extensive automation.