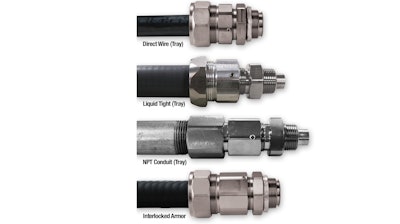 Service Wire (Culloden, WV) recently introduced their ServiceDrive VFD Cable System, their latest variable frequency drive protection offering. Features include:
Self-terminating connectors designed to address a wide range of applications.

Quicker, simplified installation.

A complete lineup of connectors for direct wire, liquid tight, NPT conduit and jacketed MC.
360-degree termination of the VFD shield.
The complete system consists of cable, self-terminating connectors and termination kits.
The ServiceDrive tray and interlocked armor cables include configuration of three NFPA 79-compliant XLPE insulated conductors and three balanced grounds with helically applied 5-mil copper tape shield.