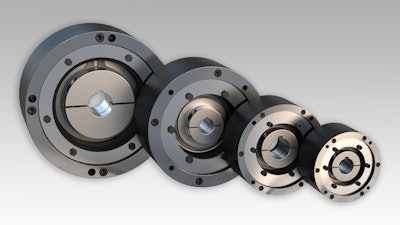 Nexen Group, Inc. (Vadnais Heights, MN) announces the release of the of the Zero-Backlash Spring Engaged (ZSE) brake family. The pneumatically-released ZSE offers high torque, high speed, and zero backlash ideal for holding applications. Unlike brakes using leaf springs to transmit torque, the ZSE is zero-backlash up to 100% of its rated holding torque. Nexen has released four different sizes (450, 600, 800, 1000) for a wide variety of applications. The bore sizes are available in three standard sizes, and can be easily customized for customer needs. Highlights of the ZSE Brake include:
Speeds up to 5,000 RPM.
Zero-backlash up to 100% of rated holding torque.
Holding torque up to 300 Nm.
Zero-backlash integral clamp collar.
Low inertia.
Customizability to a wide range of shaft diameters.
Cool operation.
Compact housing.
Optional Smart feature for Industry 4.0 Compatibility.
www.nexengroup.com; 800-843-7445