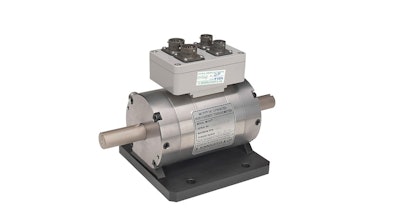 According to S. Himmelstein and Company (Hoffman Estates, IL), the ultra-precise MCRT 48800V and 49800V Series Digital Torque Transducers are well-suited for a broad range of applications including both performance and endurance testing of engines, transmissions, drive systems, pumps, motors, servo motors, gearboxes, actuators and more. Features include:
Extreme measurement accuracy with fast installed response, plus high mechanical overloads and electrical overrange.
Output signals for torque, speed and horsepower, provided as analog (±5 or ±10 Vdc) and digital over RS232 serial port. Available capacities are from 2.8 to 42,000 Nm.

Availability in two accuracy grades: ±0.04% and ±0.02% of full scale combined non-linearity and hysteresis, and have world class temperature performance.
Mechanical overloads of 200% or 400%, offering a safety margin in the presence of high startup torques or large torsional oscillations such as produced by Diesel engines. Electrical overrange of 150% avoids clipping of real world torque peaks and driveline torsionals reducing potential for errors in the average torque measurement.
Output bandwidth of 1 kHz with 13 user selectable low pass filters.
Included interface software allows fast PC setup and re-configuration while selecting from up to 33 units of measure, all without re-calibrating. All are calibrated CW and CCW to rated load in our ISO 17025, NVLAP accredited laboratory (NVLAP lab code 200487-0).
www.himmelstein.com; 800-632-7873