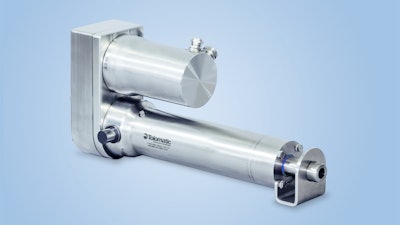 Tolomatic
Tolomatic (Hamel, MN) ERD hygienic all-stainless-steel electric cylinders are designed to IP69k rating specifications for clean-in-place, high-temperature, high-pressure caustic wash downs. Features include:
Availability with a 3A- and USDA-approved option to meet requirements for over-food production in meat (livestock), poultry and dairy processing.

Roller screw and ball screw options.

Forces that range up to 7,868 lbf (35.6 kN).

Stroke lengths up to 40 inches (1,016 mm).

Speeds to 40 in/sec (1,473 mm/sec).

A design that eliminates the need for actuator guarding fixtures.

Compatibility with a variety of third-party servo motors suitable for hygienic food processing.

Mounting in-line with the actuator or in a reverse-parallel configuration.
For more information, visit http://www.tolomatic.com/.