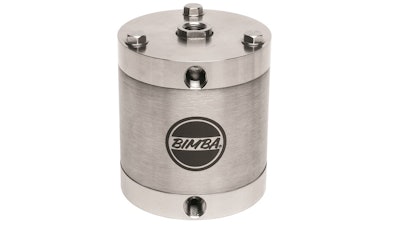 Bimba
Bimba has announced the addition of a stainless steel, compact cylinder to its Flat-I product line. The Stainless Steel Flat-I cylinders were designed especially for applications in which frequent, corrosive wash downs are required to prevent the propagation of bacteria. Additional features include:
Suitability in food and beverage, health and beauty, and medical applications in which bacteria often proliferate in crevices.
Limited mounting holes only where they are needed.
A clean stainless steel exterior.
The highest possible rating on the Ingress Protection International Scale, IP69K, 6 for being dust-tight and 9 for protection against liquids.
The ability to be cleaned with high-pressure, high temperature sprays applied at close range.
8 bore sizes and breadth of cylinder options.
To download drawings for these new designs, visit www.bimba.com.