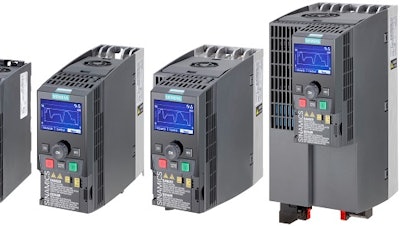 Siemens USA
Siemens has announced the immediate availability of its Sinamics G120C drive in AA size, which replaces the previous G120C frame size A in power ratings up to 2.2 kW (3 hp), including communication variants for USS, PROFIBUS, PROFINET, and EtherNet/IP.
Offering high power density in a smaller footprint, the tiny drive offers fully compatible replacement for the equivalent power ratings on the previous version.
On new control cabinet designs, the G120C FSAA has size advantages, up to 32% less overall volume, for the OEM or integrator, but requires no re-engineering, when migrating from the G120C FSA on current jobs. Overall dimensions on the smaller unit, designed for use with PROFIBUS and USS variants are only 173 mm (H) x 73 mm (W) x 155 mm (D) (6.8" x 2.8" x 6.1").
Other benefits of the new G120C FSAA include use with increased motor cable lengths, up to 50 m (165 ft) for shielded and 150 m (495 ft) for unshielded, plus identical voltage ratings, current ratings, load cycles, and compatibility with all standard Siemens options, such as operator panels, input and output chokes, as well as external Class B EMC filters. 
The G120C FSAA offers UL open type, IP20 protection in the 0.55–2.2 kW (0.75–3 hp) range. 
Typical applications include smaller test stands, mixers, conveyors, fans, pumps, compressors, and basic production machinery.   
For more information, visit www.usa.siemens.com/sinamics-g120c-pr.