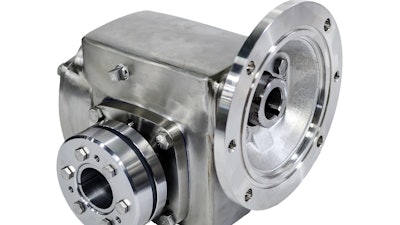 Regal Beloit Corporation (Beloit, WI) has announced a line extension of the Hub City SS (stainless steel) HERA High Efficiency Right Angle Gear Drive. Regal has added two new sizes to the IP69K certified SS version of this helical-hypodial gear drive to this product suite with the stainless steel 55 and 75, taking the torque range to 8,500 in-lbs. Worm gear drives are generally not as efficient as helical gears and become less efficient the higher the ratio.The SS HERA Gear Drive is 90% efficient, regardless of ratio. Additionally:
The SS HERA, with polished 316 stainless steel housings, is IP69K-certified to withstand sustained high-temperature, high-pressure washdown. It is also HACCP-compatible and BISSC-certified.

The SS HERA can be bundled with LEESON Stainless WASHGUARD all-stainless motors. It is available with the HubLoc keyless bushing system and new stainless steel HubCap bolt-on split covers.

Regal offers online tools and apps for both iPhone and Android users to assist with SS HERA selection.

www.regalbeloit.com; 608-364-8800