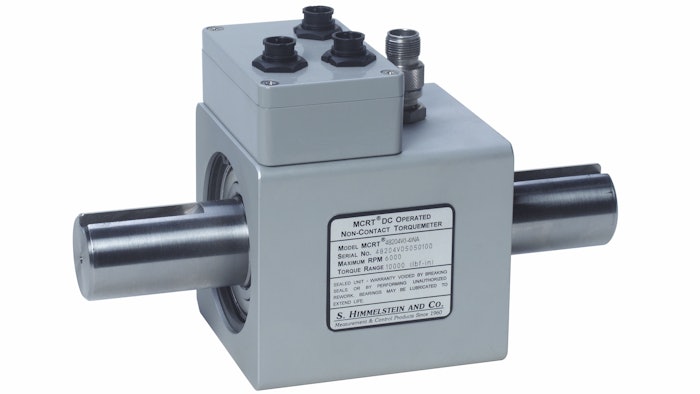 S. Himmelstein and Company (Hoffman Estates, IL) offers the MCRT 48200V Series Compact Digital Torquemeters. These devices have no pots or switches, do not require any manual adjustments and have non-contact signal transfer. They are available in full scale ranges from 25 to 10,000 lbf-in (2.82 to 1,130 Nm). Two accuracy grades are offered: ±0.2% and ±0.15%. Torque signal outputs are both analog (±10V or ±5V) and digital, engineering unit data via com port. Calibration values, scaling, and units of measure are stored in nonvolatile memory, and automatically loaded on powered up. Any of ten supported units of measure can be selected without recalibration. Other features include:
Internal signal processing accurate to 14 bits.
High strength alloy steel shaft with 200% torque overload capacity.
High electrical overrange.
Inherent noise tolerance.
Optional speed pickup.
The MCRT 48200V Series includes software that interfaces with Windows-based PCs that displays engineering unit current, peak, valley and spread data; classifies limits; and performs real-time plotting. The software will also save data to disk, store test setup parameters and archive calibration history.
www.himmelstein.com; 800-632-7873