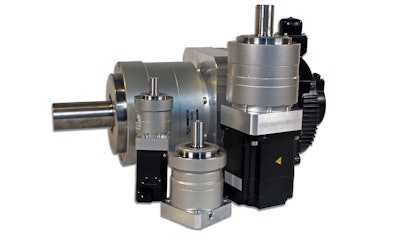 The Drives & Motion Division of Yaskawa America, Inc. (Waukegan, IL) announces the release of a full line of gear motors based on its Sigma-7 servo motors. A new set of gearheads have been designed to pair precisely with every servo motor in the full Sigma-7 range, creating complete gear motor solutions rated from a low of 50 watts to a high of 15 kilowatts. Five different gear ratios are available, ranging from 3/1 to 50/1. Yaskawa created the new line as an alternative to bolting an aftermarket gearhead onto an existing servo motor. Yaskawa gearheads are perfectly matched with their companion servo motors in mounting conventions, coupling mechanics and output characteristics. Each is custom assembled, balanced and factory tested, and includes a full Yaskawa factory warranty. Design features include:
Precision helical gearing with a 40% greater tooth surface area for notably smoother, quieter and more accurate operation.
An enhanced system of bearings, including 45% larger planet bearings for guaranteed alignment, higher stiffness, greater load capacity and longer life.
Balanced, concentric shaft couplings to minimize vibration during high speed operation and reduce the inertia of the gear motor system.
Documented performance, including 100% inspection of all gear motors and a report on noise level, vibration, backlash, accuracy and drive back torque.
www.yaskawa.com; 800-YASKAWA