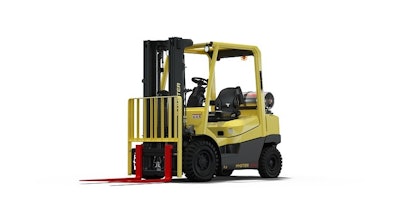 Hyster Company (Greenville, NC) releases the first models built on its all-new A Series platform, the award-winning Hyster H40-70A series. These 4,000-to-7,000-pound capacity lift trucks offer world-class ergonomics, low total cost of ownership and safety features designed to bolster confidence and productivity, including the innovative Dynamic Stability System (DSS).
The A Series is a new line of forklift trucks manufactured using the company's A+ Logic design philosophy. A+ Logic is a scalable approach that begins with the strong base of the A Series truck platform and allows customers to choose the options they need from a fully integrated set of scalable and adjustable features based on their unique application.
The flexibility to get only the options needed enables the H40-70A to deliver the capability operations require while protecting budgets. Durable components and extended service intervals help further control maintenance spend and bolster reliability and uptime.
While the A Series offers exceptional configurability, it also offers robust standard features, such as DSS. Standard on all H40-70A models and completely maintenance-free, DSS uses sensors to continually monitor truck status. When it detects the truck exceeding designated thresholds, DSS automatically implements measures like limiting truck speed and hydraulic function, to help minimize the risk of forward and sideways tip-overs.