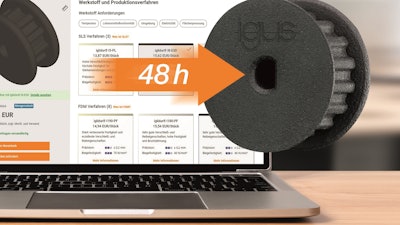 igus (East Providence, RI) has announced it is expanding its 3D-print and online ordering offering to include custom format toothed belt pulleys.
Toothed belt pulleys are a common component in many machines and are widely used in linear drives of printers, robots, and packaging machines. However, if an individual variant is required, developing a custom component can take days or even weeks.
To shorten delivery times for special-format belt pulleys, igus now offers manufacturing by 3D printing, reducing delivery times from several weeks to just 48 hours.
The production of toothed belt pulleys with flanged wheels is particularly complex and is difficult to produce from a single piece of metal using lathes and milling machines. However, the 3D-print service from igus speeds up manufacturing because the parts are printed in one piece, and the online configurator makes it easy to order. Customers can upload a CAD model of their part via drag-and-drop on the website to determine a price immediately and place the order.