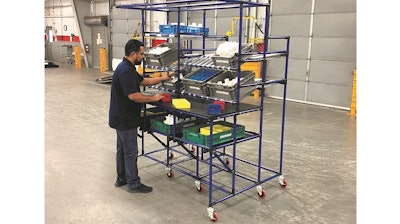 Creform Corporation (Greer, SC) has developed a mobile workstation for a truck parts supplier. The workstation, built for standing work, is constructed using Creform's 28 mm pipe and joint system and features plastic work surface across the front, as well as a shelf below the work surface across the front that is used for parts, supplies and tools/fixtures. Above the work surface are two flow levels with angled presentation for the parts holding totes. Specifically:
Flow lanes provide first-in, first-out parts handling while the presentation created by the secondary angle enhances visibility and physical access to the parts.

The angled presentation also keeps the loose parts in the totes positioned to the front of the box for easy picking.

At the top of the workstation are two flow lanes to return the empty totes to the rear of the workstation for an associate to pick up when bringing full totes to restock the station.

The workstation has overall dimensions of 65" W x 83" H x 47" D with a 600 lb. load capacity.

It is built with "Marine Blue" colored plastic-coated steel pipe and metal joints and features industrial-duty stem casters which makes workstations easy to reposition for a change of the shop floor layout or for housekeeping.

The modular design allows the user to change the station's configuration and features to best match the needs of their production process as well as the stature of the manufacturing associates.
www.creform.com, 800-839-8823