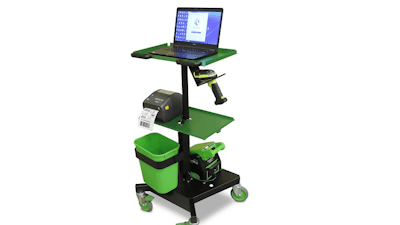 Newcastle Systems (Haverhill, MA) is now introducing its latest product, the LT Series Mobile Powered Laptop Cart. The sturdy cart with an integrated power system provides an economical solution for computing or light barcode printing applications for employees working in many industrial environments including warehouses, distribution centers, production floors and more. This will power your laptop, or small thermal printer and scanner for 8+ hours or 24/7 operation with integrated PowerSwap Nucleus MINI battery system. Designed for most industrial environments, the LT Series increases workers' productivity by 50+% by eliminating costly walking back and forth to and from a deskbound laptop or printer. Specifically:
It enhances the "paperless process" as workers are now able to move around with access to their laptop, small thermal printer, and scanner.

The cart's integrated power system allows workers to completely leverage their wireless facility.

This cart can seamlessly flow from task to task without cords or costly cable drops, adding a greater level of efficiency to every facility.

With safety in mind, workers can also ensure a 6' to 10' work distance between each other.
http://www.newcastlesys.com, 781-935-3450