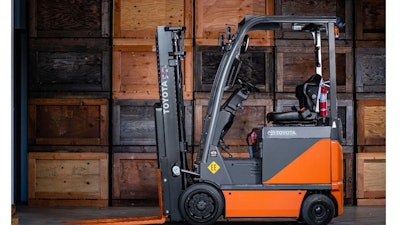 Toyota Material Handling (TMH; Columbus, IN) has introduced new 3,000- and 3,500-pound capacity models designed to boost both productivity and uptime. The new models feature Toyota-designed AC motors that deliver industry-leading runtime and performance. Customers will also benefit from improved ergonomics and new standard features and options that provide additional comfort and versatility. Specifically:
In addition to the AC drive motor, both models feature a new AC pump motor. These motors function with reduced current draw, helping to control overall energy and operational costs for superior operability.

They also operate without the use of wearable parts such as brushes or commutators, requiring no regular maintenance.

Both motors are designed and built by Toyota to maximize uptime and reduce overall cost of ownership.

Operators will also enjoy up to 27 percent faster travel and lift/lower speeds as well as an increased runtime of up to 12 percent compared to previous models.
www.toyotaforklift.com; 800-226-0009