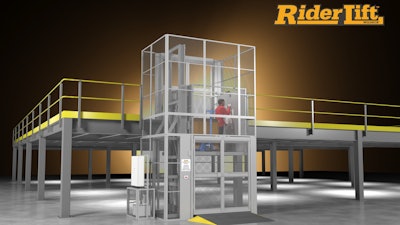 Wildeck, Inc. (Waukesha, WI) has announced that its line of RiderLifts will be showcased at ProMat's 2019 conference and expo. Located in booth S1241, event attendees will see firsthand how the company's line of rideable material lifts save time, improve safety, reduce lost time accidents and increase material handling efficiency. Specifically:
Classified as a type B rideable material lift, Wildeck's RiderLift™ allows authorized personnel to safely travel between levels with their materials at a fraction of the cost of a passenger or freight elevator. In addition to maximizing the efficiencies gained from mezzanine platforms, rack systems and pick modules, each device is constructed with heavy-duty welded structural components, making it the ideal solution for industrial applications.
Additionally, a functioning demonstration of the XpressLift VRC will offer a firsthand look for show participants interested in improving the efficiency of their automated facility. The XpressLift has been specifically designed to efficiently integrate vertical lifting into automated conveyor systems. Specifically:
The XpressLift VRC can quickly transfer totes or cartons of materials typically weighing up to 75 pounds at speeds up to 350 feet per minute. Facilities looking to increase automation and shorten product delivery times to customers will appreciate the ease with which the device can be installed, maintained and integrated into new and existing conveyor systems.
Visit Wildeck at ProMat booth # S1241.
www.wildeck.com; 800-325-6939