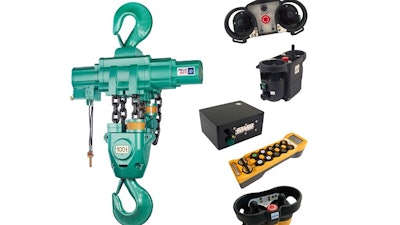 J D Neuhaus (JDN; Sparks, MD) offers broad, feature-rich hoist and crane technology, ensuring virtually every type of general application can be served. Products available include pneumatic cranes, C-rail/light crane systems, pneumatic hoists (Profi, Mini and M ranges), manipulators, trolleys (including low headroom versions), big bag handling hoists and monorail hoists. Specific benefits include the following:
A newly developed remote control concept that brings exceptional ease-of-use and convenience to users across all industries. Comprising a transmitter and receiver, the JDN-RC (Remote Control) is available for both new and retrofit applications.
Explosion protection, which is paramount in many industrial applications, is assured as JDN chain hoists and crane systems are driven by compressed air, which offers an unbeatable advantage in comparison with electrical hoists: air generates no sparks.
Lifting capacities of up to 100 metric tons are available to move loads reliably as part of repetitive cycle lifting, day after day, in more than 70 different sectors.
The 100% duty-free cycle of the equipment, which can either be used directly in applications or as part of OEM material handling devices, allows workers around the world to work longer and harder.
www.jdngroup.com; 888-Neuhaus