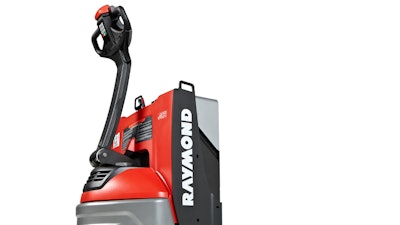 The Raymond Corporation (Greene, NY) introduces the new Raymond Model 8250 AC walkie pallet truck with 24-volt, 156 ampere-hour Light EV Battery Pack. Built specifically for the Raymond Model 8250, this double-power-capacity lithium-ion battery pack has been UL 2271 listed. The Model 8250 with lithium-ion battery is an intelligent truck and pack offering, providing CAN communication that allows data exchange between truck and lithium-ion battery pack, providing operator feedback in the form of fault codes displayed on the truck's control handle, as well as audible and visual alarms if charge is required or low. Features include:
An onboard battery management system, allowing the user to schedule charge times, provide notifications when charging is required and monitor charging and usage to prevent overcharging and discharging events.
Integrated heaters for superior cold storage needs and thermal controls that reduce the risk of damage caused by environmental extremes. The power pack has been designed to handle rugged environments and is IP65-sealed and maintenance-free.
A user interface that offers the operator a visual representation of the battery's charge state and audible and visual alarms if the battery pack requires immediate attention.
www.raymondcorp.com; 800-235-7200