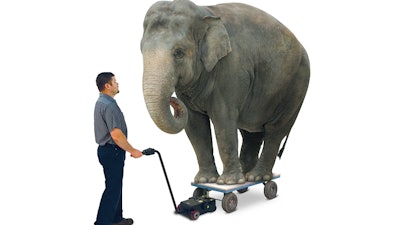 Engineered to increase productivity and safety, the CartMover from Appleton Mfg. (Neenah, WI), a member of the Double E Family of Converting Industry Suppliers, is a compact and powerful, battery-powered cart tugger. Easy-to-use, highly-maneuverable and extremely powerful, the CartMover is capable of moving wheeled loads up to 20,000 lbs, depending on environmental conditions. Excellent for both long-haul moves, and short cell manufacturing moves, the CartMover is ideal for most manufacturing environments and currently in use in a wide variety of industries. The CartMover fits most standard carts and can be equipped with a variety of engineered or custom hitches to connect securely to various carts, bins, vehicles or other wheeled loads. Additional features include:
A 24v rechargeable battery.
A programmable 110A speed controller.
Push/Pull speed: 209 fpm max (2.4 mph).
A rugged welded frame construction.
An ergonomic variable speed throttle.
A reversing emergency switch.
www.cart-mover.com; 800-531-2002