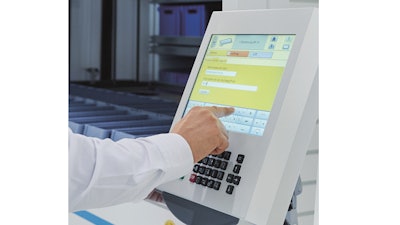 Hänel Storage Systems (Pittsburgh, PA) has announced the launch of its latest controller option for use with its Rotomat Vertical Carousels and Lean-Lift Vertical Lift Modules (VLMs). The advanced Hänel MP 14 controller features:
A 12-inch, high-resolution touchscreen display and a number of other upgrades, for extraordinary functionality and ease of use.
The ability to catalog 10,000-100,000 different types of items in inventory, depending on the microprocessor installed, and allow more data to be entered at the same time. It also can intelligently search for available storage locations within the vertical unit, so it ensures that every inch of space is utilized.
A 12-inch screen, which is an improvement over previous Hänel controllers. A virtual keyboard directly on the touchscreen, in addition to a classic alphanumeric keyboard, allows users to drag and drop items into storage for effortless inventory management.
All Hänel controllers allow customers to interface vertical storage units to their own enterprise resource planning (ERP) systems and exchange information via SOAP. This allows processes running on different operating systems to communicate using a single computer language.
www.haenel.us; 412-787-3444