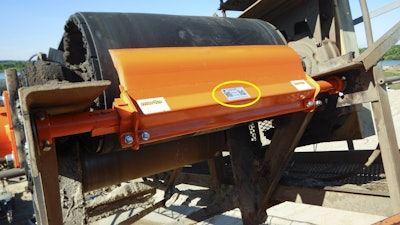 Martin Engineering
Martin Engineering (Neponset, IL) has introduced data tracking with QR codes on its belt cleaners and other components. Customers benefit from regularly-scheduled inspections by factory-trained and MSHA-certified technicians, providing operators with access to data on the application, operating environment, service life and condition of conveyor components, updated on every belt cleaner maintenance visit. Features include:
An app that helps maximize performance and service life -- while minimizing carryback and spillage -- to improve safety and reduce unscheduled downtime.
The ability to capture a wide array of information to create a detailed record on all components.
Date codes imprinted on the blades during manufacture — important for urethane because it has a limited shelf life.
Tags affixed to existing equipment to begin monitoring condition and recording observations.
The ability to log every inspection a technician makes, along with operational factors such as the material being handled, conveyor speed and remaining wear life, as well as visual observations and other info.
The overall goal is to deliver more effective control of bulk material, improving predictive maintenance scheduling and contributing to a lower total cost of ownership.
Detailed information about the product's date of manufacture, installation and service history.
For more information, call 800-544-2947; or visit www.martin-eng.com.