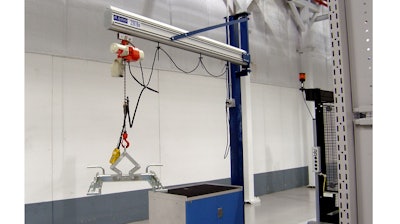 The new AL Systems Aluminum Rail Jib Cranes (250 lb. and 500 lb.) from Engineered Material Handling (EMH; Valley City, OH) are lightweight, in stock and immediately available with spans up to 15 feet. AL Systems Jib Cranes are ideal for numerous applications, including underneath bridge cranes, in areas serving multiple workstations, for outdoor loading docks, or in machining and assembly areas where several Jib Cranes might overlap, providing even more extensive coverage. Features include:
Lightweight aluminum track profiles, so they are easily configured to suit almost any application need. Their anodized aluminum extrusions and enclosed rails maximize strength, provide longer durability and add to their aesthetics.

An articulating design, meaning that they are free moving and do not require movement at right angles. This feature also provides smooth operation and a low starting force even when the load is at the end of the bridge.
Anti-kick up nylon wheels, delivering smooth and safe movement of the trolley inside the enclosed rail.
An exclusive EMH T-Slot design for splicing two pieces of rail together. With the EMH T-Slot design, installation with a wide variety of integrating equipment, such as lifters and end-effectors, chain hoists or smart lifters, is easier. The EMH T-Slot splice design also eliminates bumps when a load is moved over track splices.
www.emhcranes.com; 330-220-8600