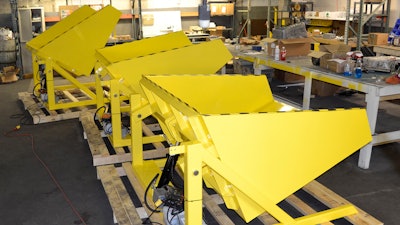 Verti-Lift (Louisville, KY) offers their Zero Pan Tilters that can be loaded or unloaded at ground level, improving ergonomics and limiting the use of forklifts or manual bending and lifting. Additional features include:
Electronically or manually operated.
Capacities of 2,000 – 4,000 pounds, and zero to 90 degrees of tilt.
They can be loaded or unloaded with a pallet jack or pallet truck at floor level.
Tilt height is set at standard ergonomic height to bring product to operator ergonomically.