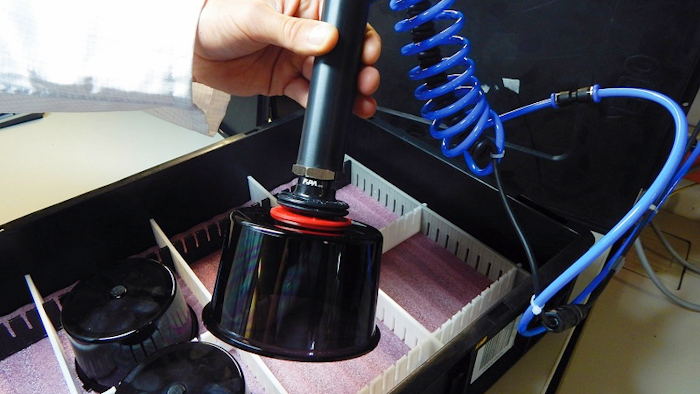 FIPA
FIPA Inc. recently employed its Varioflex bellows suction cups to develop a low-noise, high-reliability hand gripper designed to handle delicate plastic caps destined for use in optosensors without leaving any marks or contaminants behind.
Developed for Leuze electronic, a global manufacturer of efficient sensor solutions for industrial automation applications, the custom hand gripper — a first for FIPA — enables the effective visual inspection of the plastic caps, which must remain free of all defects and contaminants during the production and quality testing procedures, and thus cannot be handled manually. 
Based on FIPA's SP-BX Series Varioflex bellows suction cups, which feature a soft, flexible, and low-marking sealing lip (30° shore) capable of delivering a seal on a range of surfaces, the custom hand gripper successfully lifts and releases the delicate plastic caps to enable inspection while leaving their surface entirely intact.
A comprehensive custom solution, the hand gripper also features an on/off switch for the vacuum function, and an ejector with an integrated air-saving function that both conserves compressed air and reduces noise by automatically switching the vacuum supply off as soon as the set vacuum level is reached.
Made of oil-, ozone-, and wear-resistant polyurethane composite material, FIPA's SP-BX Series Varioflex bellows suction cups feature a dimensionally stable body (60° shore) that prevents buckling over a broad range of shear forces, and a soft, extremely low-marking sealing lip (30° shore) that delivers a perfect seal on surfaces ranging from oil-free metal sheets to hot injection-molded plastics, and even rough or uneven surfaces, including: cardboard and wood. Available with either 1.5 folds (SP-BX1) or 2.5 folds (SP-BX2), SP-BX Series bellows suction cups also deliver long lifecycles to reduce machine downtime, and outstanding holding force, recovery force, stability, and reset capabilities to accommodate systems with short cycle times.
Available in diameters spanning 16 mm to 160 mm, SP-BX1 Series Varioflex bellows suction cups have 1.5 bellows to compensate for material height differences, and stabilizing cleats that both enable fast acceleration and prevent the deep drawing of thin materials like sheet metal.
Available in diameters spanning 16 mm to 77 mm, SP-BX2 Series Varioflex bellows suction cups have 2.5 bellows to accommodate material handling applications that require both height and angle compensation, such as the de-molding of injection-molded parts, and feature an optional filter disk between the bellows for 26 mm to 53 mm diameter suction cups.
Filter disks are included with SP-BX2 Series suction cups with diameters of at least 77 mm, and rated operating temperatures for both SP-BX Series span 50°F to 122°F.
For more information, visit www.fipa.com.