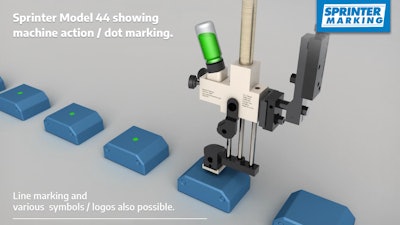 In order to quickly demonstrate the action of Sprinter Marking's (Zanesville, OH) ink code-marking machines, two animation videos have been created. One animation shows a Sprinter model 416 applying one line of text (part number) to a block type component. The other video shows a Sprinter model 44 applying a dot symbol mark on a different type of block component. This is meant to represent a pass type of mark for a component that has passed a test (electrical, pressure etc.).
The videos show the action of the machines moving from ink collection in the inverted position to ink code-marking in the extended position. The blocks to be marked are moved along a track to come to rest for the marking application then indexing forward so the next block can be marked. See them in action below.
For more information, visit www.sprintermarking.com.