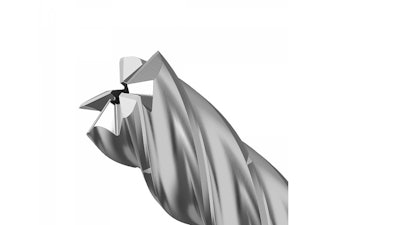 Kennametal (Latrobe, PA) has announced its latest innovation in high-velocity aluminum roughing, the KOR 5 solid carbide end mill. Designed for maximum productivity in aerospace machining, this five-flute end mill enables table feed rates to increase up to 66 percent compared to commonly used three-flute tools—redefining productivity for aircraft manufacturers and their suppliers. KOR 5 is aimed at removing large amounts of metal and getting it away from the work zone as quickly as possible, and incorporates the following features:
A tapered core, variable pitch design, and 35° helix – eliminates chatter and tool deflection.
Coolant through the tool, which flushes chips away while reducing heat.
A unique chip splitter pattern - designed to break up long chips, eliminating re-cutting, but still contributes to high surface qualities.
www.kennametal.com; 800-458-3608