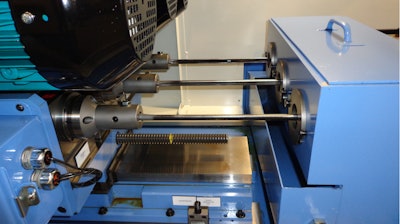 The DeHoff 518 Cell from Kays Engineering, Inc. (Marshall, MO) is a gundrilling machine for high-volume production of scroll compressor drive shafts. The shaft requires a different diameter hole to be drilled in each end for lubrication of the scroll bearing.
The DeHoff 518 Cell is comprised of 9 gundrilling spindles used to drill the opposing holes. The larger diameter, shorter hole is produced first using 3 gundrilling spindles on a single machine base. The smaller diameter, deeper hole is produced next using 6 gundrilling spindles (two separate machine bases with 3 spindles each). More spindles are dedicated to the deeper hole because of its longer cycle time, which results in a balanced throughput for each gundrilling operation.
The 518 Cell has a 0.5-inch (12.7 mm) gundrilling capacity and an 18-inch (457 mm) slide travel. The machine features a cast iron drill head base with hardened and ground steel box ways, plus hand-scraped and fitted saddle, gibs and straps (versus linear guide ways and milled surfaces). This results in superior vibration damping, extended tool life, and improved accuracy and surface finish.
www.kays-dehoff.com/dehoff; 660-886-9929