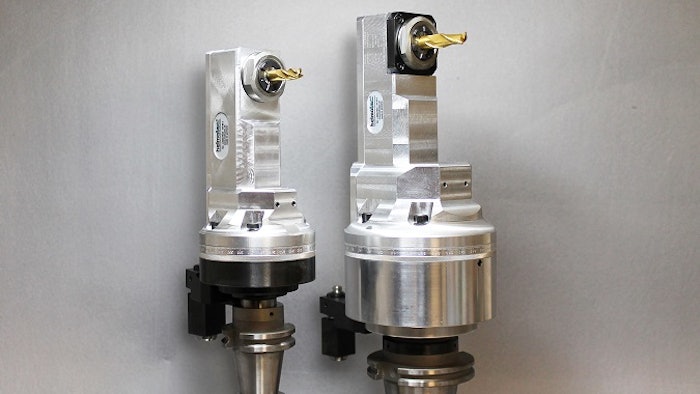 Heimatec
Heimatec (Prospect Heights, IL) has announced the availability of its U-tec flexible adapter system on all right-angle heads. U-tec is the company's patented system that allows a standard ER output live tool to accept various adapters for different applications.

Users can now have a quick changeover of tools on almost any lathe or mill, using a single live tool, without having to commit to a quick-change system on the initial purchase. Additional features include:
Unique collet nuts with internal threading for rigid mounting.
The ability to have the actual cutting tool brought into closer proximity to the bearing.
A short and compact tool length. 
Internal coolant up to 2,000 psi (140 bar) as standard. 
All necessary clamping nuts and adapters for arbor, Weldon, CAT 40, and CAT 50.
Availability in shell mill, face mill, ER extension, side lock, shrink fit, hydraulic, and blank styles.
Compatibility most automatic tool changers.
360º manual positioning.
Torque arms.
A stop block. 
Torque rated up to 150 Nm (110 ft-lb).     
For a video on the installation of angle heads, visit https://www.youtube.com/watch?v=Oy05uvNBqZM.
For more information, visit http://www.heimatecinc.com/, or call 847-749-0633.