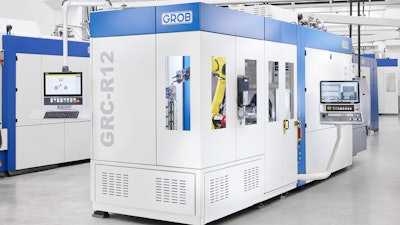 GROB Systems, Inc.
GROB Systems, Inc. (Bluffton, OH) a developer of manufacturing systems and machine tools, introduced its new, compact GRC-R12 Robot Cell which offers a flexible, customizable and affordable automation solution for the GROB G150 5-Axis Universal Machining Center, the smallest horizontal machining center to-date for the company in its modular G-series Universal line.
The introduction of the GRC-R12 robot cell broadens GROB's range of automation solutions for creating flexible manufacturing cells.
The cell features:
6-Axis FANUC M-10iD/12 Robot with 4.7' (1,441 mm) reach, capable of handling a maximum load of 26.5 lbs (12 kg)
Pneumatic single-or double-gripper system
Drawer feed system of up to six drawers that can be unloaded and reloaded while the robot cell and machining center are in operation
Chip control inside the machining center allowing for long periods of unmanned operation without faults
Option to select from capabilities such as a blowoff box, SPC drawer and an alignment station
Side access door which provides access to the machine for jobs, fixture changes and maintenance
Window that provides visibility to the machine
Integrated software that enables intuitive cell control
The compact GRC-R12 base unit which holds the robot cell has dimensions of approximately 5' x 5' (1600mm x 1600mm), facilitating fast delivery and installation.
When the robot cell is fully setup with the G150 machining center including monitors and accessories, overall space dimensions are approximately 24' (7,400 mm) length x 10' (3,250mm) width.