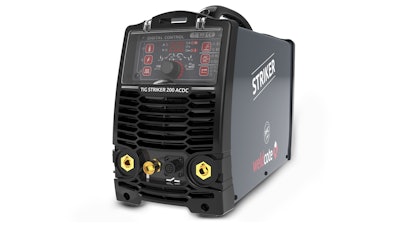 Weldcote
Weldcote (Kings Mountain, NC) has introduced the Striker 200 welding inverter for TIG and stick welding. The TIG Striker 200 adopts the latest pulse width modulation (PWM) technology, as well as insulated gate bipolar transistors (IGBT). Additional features include:
A weight of 24.7 pounds.
Dual voltage (115 volt or 230 volt).
Digital readouts.
Automatic power grid voltage identification.
Power factor corrector (PFC), which increases power efficiency, reduces input power requirements, and stabilizes the welding current.
A voltage reduction device (VRD) that reduces the voltage across the outputs when idling.
Applicability in the light industrial, automotive and home use markets.
A micro control unit (MCU) that corrects the arc length and synergizes its operations to optimize the welding experience.
Foot control or push-button hand amptrol, to control the current.
A hot start function for stick welding.
www.weldcotemetals.com