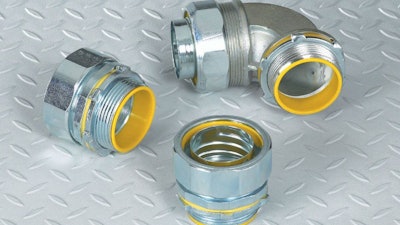 Emerson (St. Louis, MO) recently unveiled their 4QSS liquidtight fittings for the food and processing industries. Features include:
316 stainless steel composition.
Engineered for applications where sanitation is a critical concern and washdowns are frequent.
UL Listed fittings that connect flexible metallic electrical conduit while completely sealing off liquids, vapors and solids.
A nickel-plated ferrule for maximum surface contact with longer threads to protect against conduit "pop-out".
Available in sizes from 3/8" to 2", with body designs of straight, 45 degrees and 90 degrees.