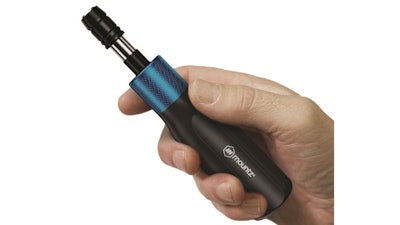 According to the Mountz Torque (San Jose, CA), the Mountz FG preset hand driver is the first release in what will be the most advanced torque tool line in the world. Smashing the ISO6789:2017 Type II Class F standard of 5,000 cycles prior to recalibration, the FG line of tools delivers an unprecedented calibration life of more than 20,000 cycles. In addition, service is not required until more than 100,000 cycles. Additional features include:
Handles with fewer flutes and larger recesses to make them more comfortable to hold, less likely to cause hand fatigue and easier to clean.
Advanced cam-over technology that provides a completely smooth reset, reducing the risk of loosening or breaking fasteners.
The patented secure bit locking mechanism with one-touch release can only be activated by the user for applications that require greater flexibility and efficiency on the line. The unique design also eliminates axial load on the fastener incidentally applied by the operator, which can influence the application of torque and impact product quality, reducing mistakes.
www.mountztorque.com; 408-850-9978