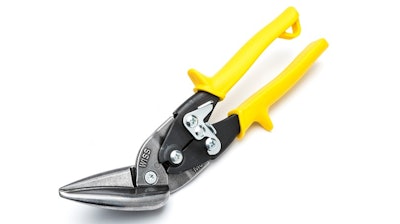 Crescent/Wiss, a brand of hand tools from Apex Tool Group (Sparks, MD), has announced its new Offset Straight Snips. These snips have been designed for safety and performance, allowing users to cut sheet metal more safely with offset blades that keep hands clear of the work while cutting. Compound lever action, combined with precision-cast serrated blades, reliably cuts up to 18‑gauge steel with 20% less effort, says the company. Additional features include:
Blade serrations to grip the material and spread the cutting force across the blade, improving cut quality as well as enhancing tool life.
Spring action, providing smooth, effortless feed, even when cutting heavy stock and tight curves.
Extended single-material ergonomic grips, which help reduce hand fatigue, while the ergonomic latch can easily be opened or closed with one hand.
The new snips are available now in-store and online from hardware retailers and home improvement centers, from online retailers and from industrial and commercial distributors.