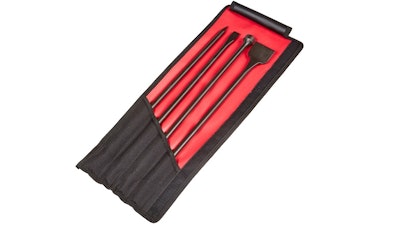 Mayhew Steel Products, Inc. (Turner Falls, MA) new 4 Pc Long Reach PRO Pneumatics Tool Set, Item No.: 37328, includes the necessary tools to meet most industrial applications. All of the tools, 18" in length, feature a standard .401 Turn-Type Parker Shank for use with most air guns. Each tool is made from shock-resistant steel that is fully hardened and tempered for long life and durability, and features a Black Oxide finish to prevent corrosion. They are 100% Made in the USA and backed by a Lifetime Warranty. The four tools comprising the pneumatic tool set, Item No. 37328, include:
#31978: Taper Punch, Sharp Point X 18".
#31986: Cold Chisel, 5/8" X 18".
#32002: Hammer, 1" X 18".
#32016: Scraper, 2" X 18".
Tools may also be purchased separately.
www.mayhew.com; 800-872-0037