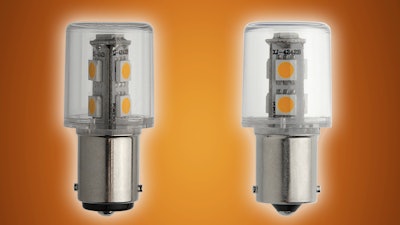 LEDtronics (Torrance, CA) introduces its latest series of LED Machine Status Indicator & Utility Bulbs. The STL60xSM series comes in two base options: 15mm Ba15D dual-contact bayonet base and 15mm Ba15S single-contact bayonet base. The lamps are also available in standard voltage 120VAC or low voltage 12VAC/12VDC.
These LED bulbs are more than machine status indicators. They're also ideal for accent lighting or task lighting applications. With a 1" tube length, these compact bulbs fit in enclosed fixtures and tight spaces; their 7-piece LEDs and clear lexan lens offer 360-degree omnidirectional illumination of 3000K warm-white light.
Even more importantly, they offer energy savings of up to 90%. These LED bulbs use only 1.5 watts or less, and yet directly replace xenon and halogen T2/T3/T4 tubular bulbs of up to 15 watts in 15mm bayonet-base fixtures. They boast luminous efficacy of up to 75 lumens per watt, are high-shock, high-impact and vibration resistant, and have lumen maintenance of over 70% at a lifespan of over 25,000 hours.
In addition, these LED indicator and utility bulbs are eco-friendly. They contain no toxic metals, and are RoHS compliant. Also, these IP50-rated bulbs are dust protected, and operate in a wide temperature range of -22°F to +122°F (-30°C to +50°C). Unlike their incandescent counterparts, they generate only minimal heat, and emit neither UV/IR rays nor RF interference.
www.ledtronics.com; 800-579-4875