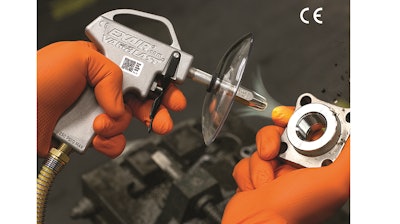 The new VariBlast Compact Safety Air Guns from EXAIR (Cincinnati, OH) are small and lightweight cast aluminum air guns capable of handling tough jobs. Because of the engineered variable flow trigger, they are able to produce light, medium or heavy force upon a target simply by pulling the trigger. Benefits of this comfortable and ergonomic air gun include:
Two ¼ NPT air inlets and a storage hanger for convenience.
Air consumption of only 10-17.5 SCFM, depending on the nozzle installed, which is among EXAIR's most efficient air guns.
The capability of producing up to one pound of force, making it a great choice for light to medium duty applications.
These CE compliant air guns can use EXAIR's extensions up to 72" long for extended reach and can be purchased with a chip shield. This product line of VariBlast Compact Safety Air Guns utilize EXAIR's 1/8 NPT engineered air nozzles which reduce compressed air use and meet OSHA requirements for dead-end pressure and noise exposure.
www.exair.com/33/vcsag.htm; 800-903-9247