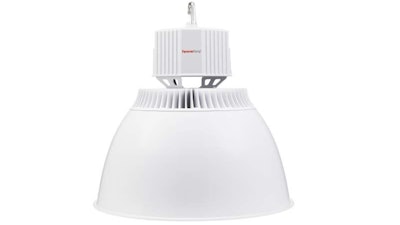 Foreverlamp (Torrance, CA) introduces the new HB5 High-Bay LED Series designed specifically for High Lumen, High Ceiling 750W to 1000W applications. The DLC premium listed LED HB Industrial Series features:
A new versatile design with a 75,000-lumen output for 1000W and 750W applications.
A fixture that combines innovative design with a technological breakthrough in reflective materials to create a highly reflective and efficient source that is rated for 100,000 hours with minimal energy consumption at a total of 522 system watts.
An exceptionally lightweight luminaire, weighing only 26 lbs. for ease of installation in high ceiling mounting situations and is available in both a traditional round high bay reflector or a classic high bay housing.

Lumen options from 18,500 to 30,000 providing superior optics and glare control for ceiling heights up to 35', as well as an IP65 solution for ceiling heights from 35' and higher.
Multiple voltage options including 277V and 480V, 0-10V dimming standard, and offers an option for wireless fixture by fixture control.
www.Foreverlamp.com; 844-533-8811