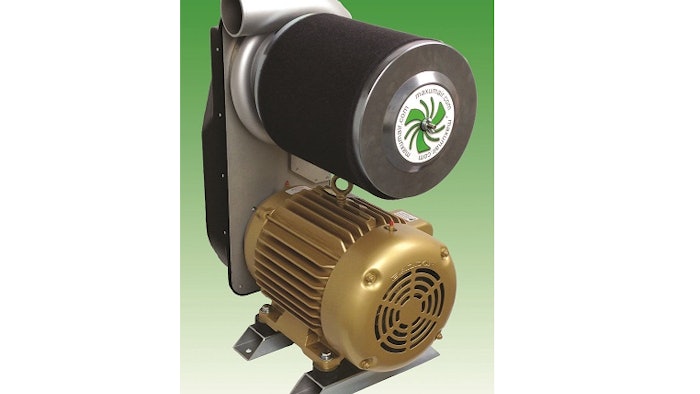 Maxumizer Air Blower systems from Maxum LLC (Rochester Hills, MI) feature durable, long lasting, science-based designs that use less energy than conventional systems and are optimized for powerful blow-off and parts drying. This permits them to provide higher output with less energy in the best performance range for surface blow-off and drying applications. In most cases this design will use 30-50% less horsepower while running at much slower speeds.
Maxum's unique approach to air blow-off is illustrated in its innovative drive system. The Maxum Bearing Bridge drive system permits industrial parts drying and air blow-off systems to use less energy and effectively run on less horsepower at slower speeds, all the while lasting longer. This science-based drive system, which replaces the typical belt-driven system, employs two separate bearing cases located on either side of the drive pulley. The unique design provides a properly distributed bearing load and dramatically reduces heat while greatly improving service life. The Maxum developed Bearing Bridge provides 10 to 15 times the "L10" bearing life of older cantilever drives that rapidly fail from the uneven overhung belt load.
Every Maxum Air Device includes standard output flow and pressure data and every Maxum Blower provides CFM, pressure and horsepower required.
www.maxumair.com; 248-726-7110